How To Purchase Tickets
Ticket Sales: Single tickets on sale for our mainstage series in September 3, 2019, all others onsale July 10, 2019.
By Phone: Call (518) 587-4427
In Person – If you would like to purchase your tickets in person, come to the Box Office in the Spa Little Theater during the dates and times listed below:
Mamma Mia! Box Office Schedule
It's a Wonderful Life & The McKrells Box Office Schedule
Dial M for Murder Box Office Schedule
The Curious Incident of the Dog in the Night-time Box Office Schedule
Spa Little Theater Seating
A. Orchestra Center
B. Balcony Center
C. Orchestra Side
D. Balcony Side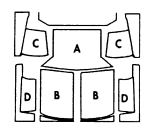 Box Office Information
Reservations may be made by phone at 518-587-4427 or online at homemadetheater.org
We accept MasterCard, Visa, Discover, American Express, personal local checks and cash.
Tickets purchased using a credit card by phone are subject to a $2 handling fee per ticket.
Student and Senior tickets are available for a $2 discount off the regular price for the three "main stage" productions. There is no student or senior discount available for our "Theater for Families" production.
10% discount for active duty military personnel or veterans.
Only one discount may be applied per ticket.
All ticket purchases are final; no refunds or exchanges.
View directions to our theater here.
Bring Your Group to HMT
Whether you are a professional travel planner, a group activities coordinator, or just a bunch of friends looking for a fun night out, we would love to help arrange for your group to see a show at HMT. Groups of 15 or more receive special rates. For more information, click here.
Bring Your School to HMT
At HMT, we believe in the ability of theater to entertain, educate and enrich people's lives. For that reason we are pleased to offer special student matinees. These weekday matinees will be open for school groups only, allowing students an opportunity to broaden their horizons by experiencing the magic of live theater. For more information about the school matinees, click here.
Make a Date (actually, three) with HMT
Become a Season Subscriber – get your seats ahead of the general public and keep them all year! You get all three "main stage" shows (the December "Theater for Families" tickets may be purchased separately) for up to 20% off the individual ticket prices. For more information, click here.