Moonlight and Magnolias auditions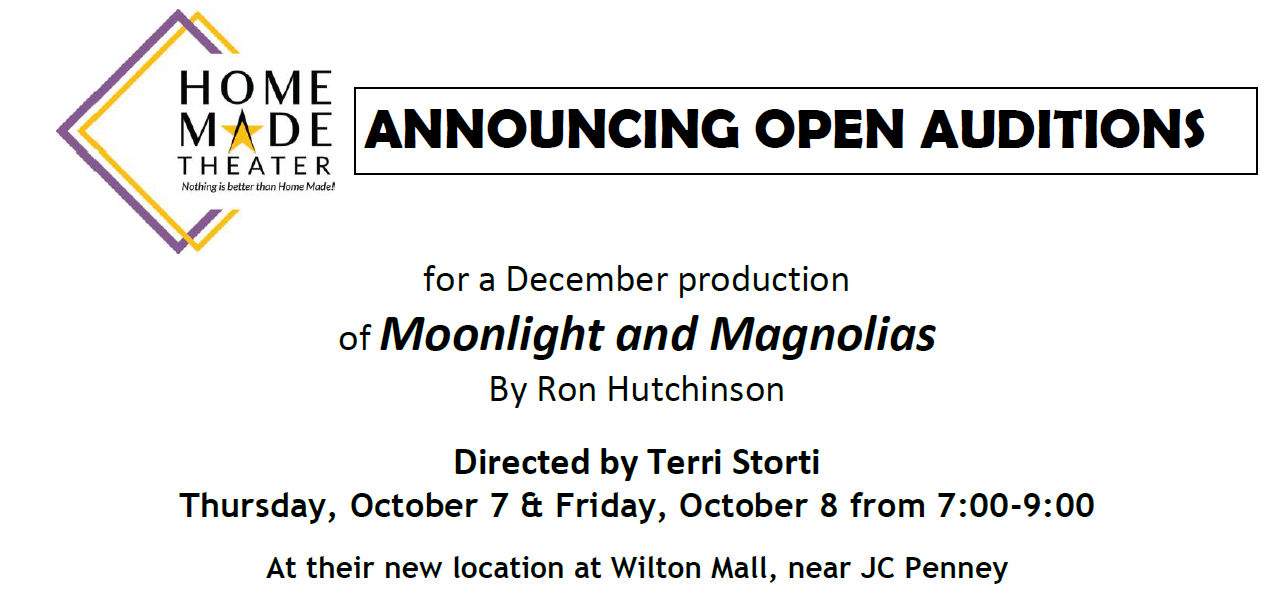 It's Hollywood, 1939, and mogul David O. Selznick has just shut down production on the most eagerly anticipated movie in history, Gone with the Wind, scrapping the script and sacking the director. Hollywood is a buzz. Determined to produce a rewrite in five days, he engages the reluctant services of ace script doctor Ben Hecht – possibly the only person in America who has not read the novel – and the movie's new director Victor Fleming, straight from the set of The Wizard of Oz after squabbling with the Munchkins and coming to blows with Judy Garland. With his reputation on the line, and nothing but peanuts and bananas to sustain them, Selznick locks the three collaborators in his office, and a marathon creative session begins.
"Moonlight and Magnolias is an entertaining trip to the mythical world of Tinsel Town during a bygone era. However, through the comedy and mayhem, there are serious references to society and cultural concerns. One is how being Jewish in the 1930's Hollywood was perceived. Another is the perception of slavery during The Civil War. Others deal with the Nazis coming to power, membership in Country Clubs, and how some romance 'The Old South'. Hopefully, one day these and other prejudices will also be, 'gone with the wind'." – TOM VALENTINE Correspondent, Allegany Magazine
__________________________________________________________________________________________
Character Breakdown – All characters are approximately 35-55. This is a general guideline.
Roles are open to all ethnicities and gender identities.
David O. Selznick: The fanatically driven movie producer and son-in-law of the producer Louis B. Mayer. The son of a movie distributor who became bankrupt in the 1920's, Selznick rose to the top of the Hollywood tree working at RKO, Paramount & MGM before starting his own Selznick International Pictures. He was notorious
for his frantic pace of work and the astonishing volume of memos he produced on every
aspect of the productions (seen by some as meddling and by others as attention to detail).
Victor Fleming: Started his working life as a motor mechanic, but got a break in the film business as a camera assistant, moving on to direct many action movies in the 1920's and 30's. With a robust manner and love of outdoor sports Fleming was known as a "man's director", but his two best known and most successful credits were The Wizard of Oz and Gone with the Wind. Coincidentally, in both cases he was a substitute to replace the original director in the early days of shooting.
Ben Hecht: A successful Chicago journalist, Hecht became one of the most celebrated and prolific
screenwriters in the early days of film in Hollywood, as well as contributing uncredited work as a "script
doctor" on many more (including Gone with the Wind). As well as journalism and screenplays he wrote short
stories, novels, plays (including The Front Page) and later ghost wrote Marilyn Monroe's autobiography. A
lifelong activist for Jewish causes, his active support of the Zionist movement in Palestine led to a British
boycott of his work in the late 1940's & 1950's.
Miss Poppenguhl: Selznick's exceptionally efficient secretary. Usually tireless, but by the end of the five days even she is more than a little dazed.
__________________________________________________________________________________________
No Appointment is necessary • Auditions will be from the script.
Please bring a current photo & resume (cannot be returned).
Rehearsals to begin Sunday, October 10 and will be held 4-5 days/week at the Wilton Mall (near JC Penney).
Performances will be December 3,4,5 & 10,11,12 at Saratoga Arts, 320 Broadway, Saratoga Springs.
For further information visit Home Made Theater's website, www.HomeMadeTheater.org,
or call (518)-587-4427.